Relax Master Ltd based in the heart of the country is a one stop shop for all your bedding and upholstery needs. With many year's experience we provide expert service in all aspects of bedding and upholstery to match your manufacturing needs.
We have fully skilled and trained sewing machinists to produce everything from basic mattress covers to the latest innovative and intricate sewn products. We have worked with many new companies and products. We pride ourselves on the expert advice we can give in developing and research of any new product all the way through to product launch. Relax Master Ltd has the latest technology Multi-needle Quilting Machines. We can quilt up to 240cm wide. We quilt for all types of end users from: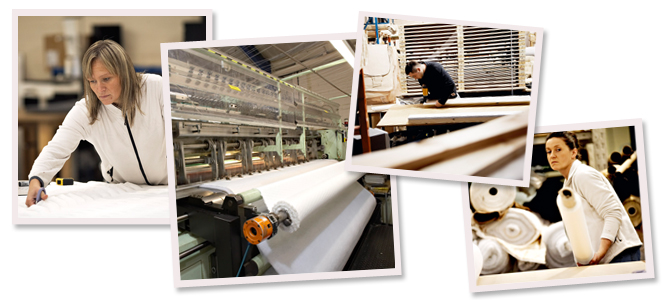 At Relax Master we have an extensive range of beds and mattresses.
We prefer to work closely with our customers and understand that trends and designs change with time and so do the requirements of our customers. We aim to be as flexible as our customer's needs.
We produce a comprehensive range of beds and mattresses but specialise in adjust-ability. We focus on comfort in our mattresses and use latest technology to achieve best results for relaxation and sleep. Please look at our Memory Matrix System mattresses and our new range of adjustable beds.
Our highly skilled upholstery craftsmen produce a range of suites and chairs that will appeal to everyone. We specialise in mobility and recliner chairs and only use the highest quality material for longevity and quality of all our products. The chairs are tailor made to our customer requirements and have many added features for complete comfort and relaxation.
Sewing Facility
Having our own in-house quilting production it seemed natural progression to having a diverse sewing facility. This gives us the flexibility to sew and produce mattress covers, divan covers and other bedding products. We can produce a range of covers for standard mattress covers to more complex caravan and yacht mattresses. With our highly trained and skilled machinists we also offer a sewing facility for upholstered products.
Riser Recliner Chairs
With many years production experience we have developed a range of recliner chairs that combines the latest technology with expert craftsmanship. With emphasis on quality and workmanship we have developed a range that is both practical and comfortable. All our chairs are rigorously tested for performance and comfort. We work closely with our customers in developing and understanding customer needs. Our development team is continuously working in line with changing trends and customer requirements.
Bed and Mattress Manufacturing
We have many years' experience in the manufacture of all types of beds and mattresses. We produce a large range of mattresses to fit in with customer's requirements. The range includes spring mattresses, pocket mattresses and a variety of foam and memory foam mattresses.
However after many years' research and development in line with people's sleeping habits we have developed a range of adjustable beds that help people sleep and rest better in today's demanding lifestyle culture. More and more people are finding mattress adjust-ability more comfortable and supportive for a better night's sleep. Rather than just a bed we call it a sleeping system. We have also developed the Memory Matrix System the ultimate in comfort and support.